No room for social rent at Pocket Living on the Old Kent Road Oct 06, 2020 12:00 am

100% affordable housing, zero social rent, zero family housing -Southwark Council is set to approve a mixed-used residential scheme in the Old Kent Rd Opportunity Area with no social rented housing or family housing, at its planning committee meeting this evening.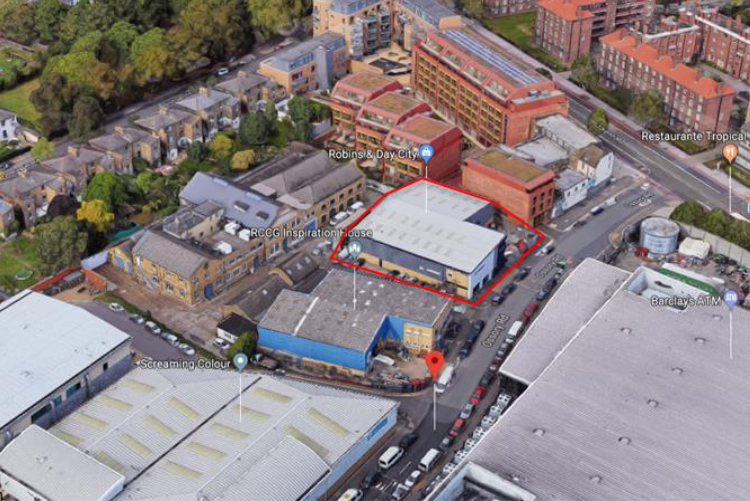 The proposed development on Ossory Rd is for 105 units of housing, with light industrial space beneath this. All 105 units will be affordable housing, but of the most expensive type, sold at 80% market value. The applicant is Pocket Living, which specialises in maximising the amount of housing on small sites. All the homes will be one-bed, one person units, without family housing. This is the second such Pocket Living development in the area; the first, in Varcoe Rd had 57 units and a third, Credon House, also for 57 units is in the pipeline.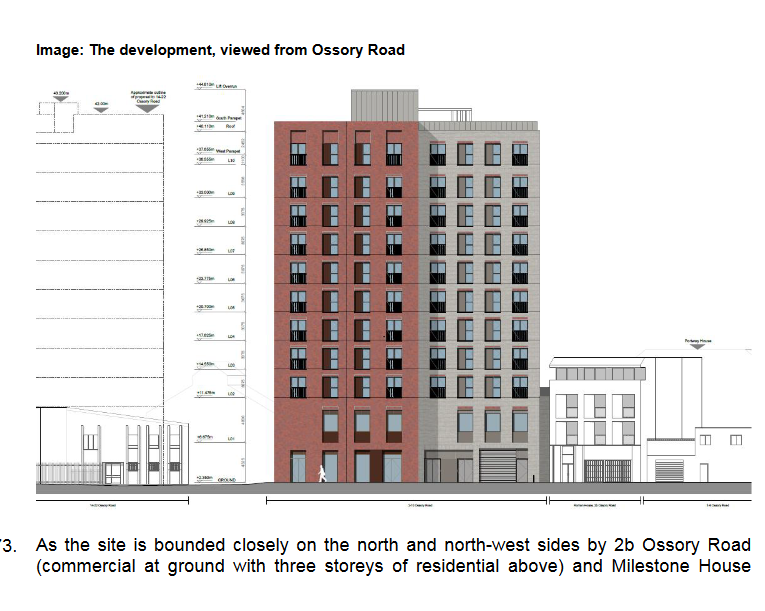 Pocket Living make up their own rulesSouthwark Council requires 35% affordable housing, 70% of which should be social rented, on all developments of this size. This has been the case since 2007 and the requirement has been retained in a succession of local planning documents, up to the draft New Southwark Plan and the Old Kent Rd Area Action Plan. All major approved developments within the Old Kent Rd have pledged to deliver that amount.There should also be at least 20% family housing of 3, 4, 5-beds in major developments and 60% of should comprise 2-bed homes1.Pocket Living, however, want to make up their own rules. Their sites are small and it wishes to maximise the number of homes built, so they are all one -bed/one person units, though 10% of their occupants appear to be couples, with most units barely above the minimum size allowed (37 sq metres) 2.The amount of open and amenity space for occupants is also squeezed. In a development of this size there should be 1,050 sqm private amenity space, Pocket are providing a miniscule 42 sqm. Developers can compensate for a lack of private space with more communal space, but Pocket falls well short here, too, providing less than half the amount required (506 sqm instead of 1,058 sqm) 3 .Not that affordablePocket Living justify their radical departures from Southwark's affordable housing requirements, by claiming they are serving the hard-pressed, young first-time buyer and supply their own statistics and census figures to back this up, dutifully reproduced by the officer's report, which recommends approval of the scheme 4. The report also makes the confusing claim that the affordable housing offer is policy compliant:
Buying a decent home in London is undoubtedly hard for the young professionals Pocket Living housing is squarely aimed at, but they are still relatively much better off than those excluded by the absence of social and family housing from Pocket Living developments. Pocket's typical purchaser will have an average income of £44,000 (OR, Para 60), an income enjoyed by less than 4.5% of Southwark's households. Pocket Living estimates that its homes will sell for approximately £300k each (with the 20% discount). Supplying homes at these prices to those who earn £44k per year, at the expense of those who earn barely half that is not what affordable housing should be about5.
Density and un-exemplary designUnsurprisingly, given Pocket's ambitions to maximise the number of units, they are proposing a scheme which is twice the density it should be, (at 2,333 habitable rooms per hectare against a maximum allowed of 1,100 hrph), justified on the basis of exemplary design. However, many of the measures for 'exemplary' design are not met – it does not have enough amenity space, there is no 'predominance' of dual aspect flats, it does not have any 2-bed or more flats, and the flats do not 'significantly exceed minimum floor-space standards' 6.Equality not a great considerationThe lack of social and family housing and the provision of all the homes as single bed units, targeted at middle income professionals, would also seem to have clear implications for the various social groups protected under equalities legislation. Southwark have a legal duty to consider this, but have not done so in any detail, content just to note of affordable housing, that there is 'a high demand for such accommodation and a relatively high BAME population' 7.Viability and the Bakerloo Line ExtensionThe officer's report and recommendation for approval was written before press-reports that the Bakerloo Line extension has fallen down the list of priorities for Transport for London (TfL) and may not be built for many years. Pocket Living's proposal is, according to themselves, technically non-viable and depends upon the delivery of the BLE to turn a profit (as do many other Old Kent Rd schemes) 8. There is no mention of a late stage review of the scheme's viability, which removes the possibility of any improvement in the affordable housing offer, such as a greater discount in the selling price.The Mayor likes itWhile Pocket Living pretty much ignores Southwark's own housing policy, so does the officer's report to the planning committee, which notes the departures, but nonetheless recommends approval on other 'material' grounds. The report also cites the enthusiastic support of the Mayor (matching his enthusiasm for Build to Rent, another middle/upper income affordable housing tenure that sacrifices social rent)9.What we say…It is hard to see what this scheme brings to the Old Kent Rd, in housing terms. It has no social housing and no family housing. The affordable housing it does provide is of the most expensive kind. The scheme does not have the private and public space that it should have and it serves a very narrow demographic, while excluding broader sections of the community.Pocket Living would argue that the constraints of the site and the housing needs of a relatively well-off section of the community should outweigh these shortcomings, but Southwark's local plan already addresses how much housing there should be for different income groups, with the overarching aim of building a mixed and cohesive community. Pocket Living simply ignores this, so the planning committee should reject this application.You can find the 35% Campaign objection to this development here. Footnotes:Southwark's Core Strategy Strategic Policy 7 – Family homes, pg 86 ↩Officer Report Table pg 42 ↩Officer Report para 133,134,135 ↩Officer Report para 112 ↩New Southwark Plan Submission Version Jan 2020 Fig 2 ↩Officer Report para 118, 119 ↩Officer Report para 28 ↩Officer Report para 64, 65 ↩Officer Report para 229-237; 57 ↩
Read in browser »
 
Shopping Centre closes, but campaign for traders continuesSep 28, 2020 12:00 am

Protesters mark the final day for Elephant shopping centre -The closure of the Elephant and Castle shopping centre last Thursday was marked by protest, impassioned speeches and widespread media coverage. The centre closed after 55 years' service to the local community and is now set to be demolished, to make way for a new retail, leisure and residential complex. Shopping centre owner, Delancey, leads the development partnership behind the new scheme.
While the centre's major stores had gradually left over the previous months, many of the independent businesses were trading up to the final day. The closure also brought the end for the market which occupied the centre's 'moat', which numbered around 60 stalls just under 2 years ago when Southwark's planning committee first considered developer Delancey's proposals for the centre's redevelopment.Only 40 traders have been relocated to three sites – Castle Square, Perronet House and Elephant Park – 'leaving about 40 traders who have been trading at least since January 2019 (as per the s106 agreement) without alternative premises'. A major aim now of the traders and their supporters is to secure space that could double the number of relocated traders, with a proposal to the Mayor for new market stalls at the Elephant.Up the Elephant solidarityA large protest organised by the Up the Elephant campaign (which includes the 35% Campaign) marked the centre's closure and commemorated the people who had worked there, many from for black and ethnic minorities, and its role as a social hub for the Latin American community in particular. The campaign has long fought against the demolition and Delancey's redevelopment plans and while the centre's fate was lamented, speakers also noted the gains that the campaign had made – more social housing, affordable retail space as well as new premises for some displaced traders, along with transition and relocation funding.
What the Papers say…There was extensive press and media coverage of the closure and protest, including articles on the SE1 website, Southwark News, South London Press, South West Londoner, Morning Star, The Guardian (and here), the Justice Gap, Vice and the Spanish language Express News UK (and here) and the BBC's Drivetime with Eddie Nestor.
Amongst the comments from protest speakers highlighted in SE1 website were those from Patria Roman of Latin Elephant, a mainstay of the campaign, and trader Emad Megahed.Patria expressed her sadness at the closure of the shopping centre but noted that campaigning efforts had yielded improvements in the support provided by developers and the council to local traders.'I am incredibly proud of all we achieved,' she said.'If today we can say that some traders have been relocated, it is because the campaigners fought fiercely. Everything they have is because campaigners fought for it. Nothing came for free.'Emad said – 'I am so proud of my community. I am proud that my community stuck together – whatever nationality … we all speak the same language, the language of love, and sticking together as one. That's the lesson we want to teach our kids.'The Guardian noted 'the shadow of decades of underinvestment'and commented-'rarely has a managed decline been so obvious, or so long-winded'adding-'you don't need to love the shopping centre as it is right now (or at all), or worry about what happens after its demolition to the meeting places, public spaces and social bonds it offers, …. to raise questions about who must leave and who can stay, when the developers arrive in town'.
Southwark News also covers the rebuttal of Southwark Council and Delancey claims that nearly all traders have been satisfactorily relocated. It quotes Latin Elephant, which has profiled those turned down for new premises or unable to find appropriate space, and who say-'Our research has been widely documented, and it was carried out independently with an effort to enforce transparency and accountability. This has been discussed several times with Southwark Council and Delancey. It is unacceptable to see the closure of the Shopping Centre with many traders still without relocation, so we will continue our advocacy work in a constructive way to support the local community.'The Mayor responds to traders' proposalA day before the centre's closure Mayor Sadiq Khan responded to the traders' proposal for new market stalls to accommodate traders who have not been allocated new premises.Southwark News and The South London Press highlighted the response. The Mayor, quoted in the SLP, says 'It is disappointing that a number of small businesses still don't have the certainty they need….in general I would welcome any workable solution that would provide these businesses with the space they need to trade' while cautioning that the traders' proposal 'would be subject to various planning and licensing consents' making it 'not appropriate' to comment on the specific plans being presented.The traders' proposal is supported by Florence Eshalomi MP, London Assembly member for Lambeth and Southwark, local councillor Maria Linforth-Hall and London Assembly members Caroline Pidgeon and Sian Berry, the Green Party candidate for Mayor. The Camberwell and Peckham Labour Party Constituency Party also passed a motion in support of the traders' Proposal at their meeting last week.The traders and their supporters will now be building on this support to get new market stalls and kiosks for those traders without new premises and repair some of the damage done to their businesses and livelihoods, by the centre closure.
Read in browser »
 
Recent Articles:The Elephant traders who face the end without new homes
Shopping Centre traders propose new stalls for the Elephant
Southwark responds to shopping centre campaignersfollow on Twitter | friend on Facebook | forward to a friend 
35% Campaign